Mamas Supporting Mamas
There's no shortage of expected surprises during pregnancy. Don't let one of those be a surprise fall. A changing center of gravity, stretched and sore muscles, and not being able to see your feet very well, all increase the risk of a tumble while pregnant. Protect yourself and your baby everywhere you go.
Our Pilot Clinical Study
70% reduction in pelvic pressure

38% reduction in sway velocity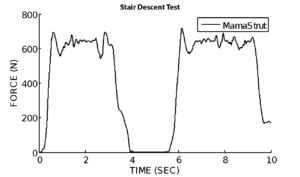 In January of 2019, a pilot study was completed by Dr. Yamashiro, Professor of Biomedical Engineering and Dr. Havens, Assistant Professor of Clinical Physical Therapy at the University of Southern California.
This study was done to investigate the physiological change a pregnant woman would experience while wearing a Mama Strut Maternity Brace. The test was conducted while ascending and descending stairs to measure pressure and stability.
Increase your balance and peace of mind with Mama Strut Maternity